Stuffed Pork Chop
Ain't that a beautiful sight? We get these amazing pork chops from Countytime Farm out in Hamburg, PA (about 30 minutes north of Reading). Paul Crivellaro delivers them fresh about once a month to the farmstand and when they come in fresh, they're kept fresh for a couple of days before we put them in the freezers for safe storage. Stuffed pork chops are something I always thought were a fancy item and something that took a long time to make. Good god was I wrong.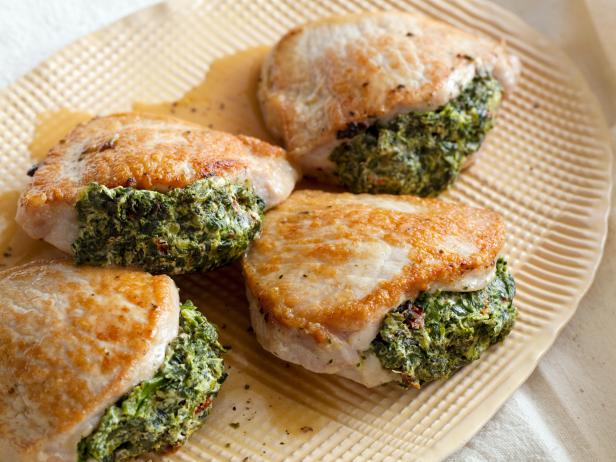 Step one is get your hands on some thick-cut pork chops (about 1″ thick). I highly recommend these Countrytime pork chops. Paul raises some incredible hogs. From the site:
The "Big Black" pigs we raise on our farm were called Devon or Cornwall pigs from their area of origin in England, but now are a registered rare heritage breed named "Large Black Hog" and are hardy, docile and friendly foraging hogs that feed from pasture vegetation and grains. Because they are slow to mature, they aren't the type of animal that produces uniformly injected flavor, chemically treated meat one may find at large supermarkets, but alternatively are appreciated for tasty succulent meat and excel cured as artisanal bacon.
"Tasty succulent meat" ditto.
Two-packs run roughly $10 – $15 so you'll get 2 solid meals out of them. I cook them, cut them in half and take them in for lunch so I actually get more than 2 meals out of them. If you get them fresh, that will save you some time, but you'll have to make them quickly before the meat's no good. I'd stick meat in the freezer by day 5. If you get a frozen chop, put it on a plate and in your fridge overnight. It'll be ready to handle by dinner prep time. Once you have a defrosted chop, take it out of the fridge and bring it to room temperature. While you're waiting, do your prep work. Ah, what should you stuff into your chops? I think apples are great, but not here. I went with onion, shallot, garlic and habanero peppers. In addition to that, I coated each side with coarse salt, fresh ground pepper, sage and rosemary. I also prefer the awesomeness of cast iron, but any oven-safe skillet will do.
The prep: preheat your oven to 400&deg:F. Chop up half an onion, finely slice up a shallot and finely slice a habanero, mince a clove of garlic. In a little mortar and pestle, portion out a couple pinches of rosemary and sage and give them a grind. Once the chops are at room temperature, hold the chop on the bone end with your non-cutting hand. Take a sharp knife and cut a pocket on the fat side running the length of the side. You may need to do some maneuvering to cut out the inside of the pocket some more. Salt and pepper and rub the herbs into each side of the chops. Get some heat going under your skillet. Add in some olive oil and once hot, add in the onion and shallots. Cook those down for a minute and add in the garlic and habanero. Cook them down until your kitchen smells lovely and then dump the goods into a bowl and place the skillet back over the flame. Now the fun part.
Stand up the chops, bone side down, and open up that pocket. Now stuff the chop with the hot onion, shallot, garlic, habanero mixture. This will get easier after you've done it a few times. Overstuff it a bit, don't worry. Now put the stuffed chops into the skillet and cook each side for about 4 minutes until a nice crust develops. Stick the entire skillet into the oven to finish off for another 8 minutes. Take them out and marvel at how easy that was. Let them sit and rest for a few minutes before digging in.
The good people at John & Kira's Chocolates sent us some samples of their newer goodies to try out, so we did, happily. Above, from left to right, is the new Urban Garden Chocolate Bar, Spiced Pumpkins and Chocoalte Cherries. Below is their mouth wateringly gorgeous catalog filled with shots of all of their goodies.
john and kiras chocolates
The Urban Garden Chocolate Bar [$8] is a segmented 3oz. bar that should easily break, but it doesn't. Not a biggie, but just something to know when you're trying to break it up into pieces to share. You can always have the excuse now of breaking off a bigger piece! The mint in the bar is refreshing. It has a clean, true minty taste to it, most definitely not artificial flavoring. This tastes like you've gone out into a meadow and sandwiched a sprig of spearmint in between two pieces of delicious dark chocolate. The mint is actually steeped right into the chocolate! If you've had the mint chocolate ganache squares in the assorted packs, it's a similar taste, but not as decadent. That's to be expected though, since this is not ganache.

john and kiras chocolates
The Spiced Pumpkins [$29, currently out of stock] come in a box of 9 and might be the prettiest of all of the offerings John & Kira's products. Little orange half-dome pumpkins with hand-piped green stems on top – each stem different from the other. The brown paper cups match the autumnal color palette perfectly. The spices do not overpower the pumpkin, but they don't shy away either. The cinnamon and nutmeg fight for your attention first leaving the clove, ginger and orange zest to fight it out afterward. John & Kira's has never taken shortcuts in their meticulously put together products and while we didn't expect them to have done so with these mini pumpkins, the thought can't help but loom in your head around this time of year when it's pumpkin everything. Messy thinks these are just about the best chocolates she's ever had — like the best pumpkin pie filling inside the greatest chocolate, ever.
john and kiras chocolates
The Chocolate Cherries [$29] come in a gorgeous deep maroon color (Picky's high school color!) to match the color of a ripe cherry. Most maroon cherries we've come across are the sweet variety, but we've all had enough of the candy cherry red, right?! Maroon it is! Biting through the shell and a layer of ganache to get to the cherry is rewarding. Take it slow and you'll really feel the layers on your teeth and gums (yes, it sounds weird, but… just try it). The cherry has a bright flavor to it and it's crisp! No mushy, past-due cherry here. This was picked at its peak and dried nicely, leaving a nice amount of moisture behind for texture. The brandy adds a nice little kick and helps separate the tart cherry and rich 62% dark Valrhona.
Now, where can you get your hands on these, and other, offerings from John & Kira's? They've set up a handy dandy page on their website for you. While the pumpkin is currently sold out, you can still order the garden chocolate bar and chocolate cherries. And if you act quickly, you can get it shipped overnight in time for Thanksgiving! Alternatively, you can hit up a few retail locations: Fair Food Farmstand in Reading Terminal Market carries the Urban Garden Bars, Chocolate Ladybugs, Chocolate Bees and 15 piece Assorted Chocolate Box. The prices at the Farmstand are a few dollars cheaper than buying online. The Toffee and Chocolate Bees are available at the Center City DiBruno Brothers location at 1730 Chestnut St. And you'll have one last chance to snag up some from John at Headhouse Square Farmers Market on Wednesday from 10a – 4p at 2nd St between Pine and Lombard Sts.
Grab some other holiday fixings at the city's largest farmers market which is organized by The Food Trust before heading out, too — like a wedge of Birchrun Hills Farm cheese, cider from Three Springs Fruit Farm or apples from Beechwood Orchards (we love the Goldrush, Pink Lady and Newton Pippin varieties for their crispiness).
Happy eating!
HaHa Hotsauce Update


We were wandering through the Whole Foods on South St the other day and we were happy to see the hotsauces we sampled, from HaHa Hotsauce, last year on the shelf! The Figgin Hot and Chipotle BBQ sauces were on the shelf next to a host of national competition and that's just plain awesome. We wish JD the best and congratulations! We have no idea how long JD's goods have been in Whole Foods, but hopefully they're there to stay.
Of note, Picky's stash of JD's special homebrew is gone and he wishes he had some more.
City Food Tours: Philly Homegrown
city food tours: philly homegrown
We were lucky enough to be invited on a preview for the new Philly Homegrown City Food Tour done in conjunction with GPTMC's Philly Homegrown initiative. City Food Tours owners Eric Matzke & Robert Weinberg led 15 of us around Reading Terminal Market and down towards our own neighborhood, the Gayborhood (we still don't know anyone who calls it "Midtown Village") with several stops along the way to stuff us full of local goodies.
city food tours: philly homegrown
The first stop was at Fair Food Farmstand, Picky's day job. Fair Food's new General Manager, Kristin Mulvenna (left), took the group through a quick history of Fair Food (it started off as a single folding table in the back of Reading Terminal about eight years ago) and the plates of goodies she had in front of her. We had sliced super crispy heirloom York apples from Beechwood Orchards with some spring wildflower honey from Two Gander Farms, Sylvia's granola topped with Pequea Valley maple yogurt and a hunk of challah from Four Worlds Bakery out in West Philly.
city food tours: philly homegrown
Here's a look at the year-old newish space for Fair Food which is about 3x the size of the old space in the back of the Terminal. Lots of seasonal everything available 7 days a week as long as the Terminal is open. If you're looking to buy a great, locally and naturally-raised bird for Thanksgiving, Fair Food is your spot and you can order one here. If you want one of the prized heritage red bourbon turkeys, Monday the 15th [today!] is your last day to reserve one.
city food tours: philly homegrown
Here's Eric talking in front of Salumeria, one of two dedicated cheese shops in the terminal. Salumeria prepared a selection of local cheeses for us to enjoy.
city food tours: philly homegrown
We had (clockwise from the left): a very peppery Peppercorn Jack and sharply salty Misty Lovely (a ricotta salata), two goat cheeses from Misty Creek Dairy in Leola, PA. They gave us a feel of the range of goat cheese available in the area. Cherry Grove Farm's cousin-to-cheddar Herdsman was up next to cool off our palates. (Picky is a huge fan of Herdsman cheddar — see this post from earlier this year.) To finish, we had hunks of God's Country Creamery's Country Blue, a mild-mannered blue.
city food tours: philly homegrown
We headed out of the Terminal, down 12th Street, to Tweed Restaurant. There's Mme. Fromage toting a big bag of DiBruno Bros. goodies.
city food tours: philly homegrown

Our little heard of local munchers filing into Tweed.
city food tours: philly homegrown
Chef David Cunningham came out from behind the kitchen doors to walk us through the tasting plate and give us a little history on Tweed. Chef Cunningham regularly visits farms in the area — he's stood by the rivers where his trout comes from and seen his hogs up close and personal. As he told us, for him, "local food is not a fad." It's a way of life. Above, Chef Cunnignham takes a glance at the plate in front of Art from Foobooz.